Joy Division are, hands down, one of the greatest fucking bands of all time. Their debut, Unknown Pleasures, set new benchmarks in alternative music, and is without a doubt one of the finest and most influential records, ever. The fantastic album art describes it to a tee really, nothing before or after, only an erratic yet channelled burst of creative genius in the middle.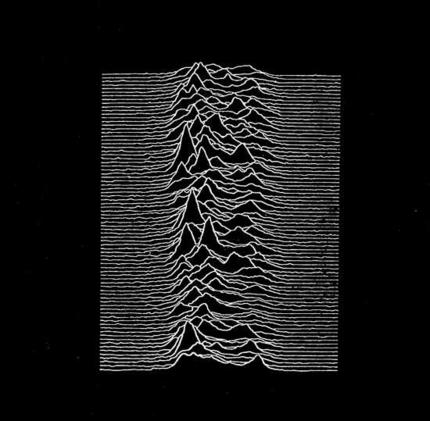 So, It's 1979, and punk is pretty much dead - all the energy, bravado and balls it had is seemingly on life support. Enter Joy Division - four Mancunian lads who manage to paint a musical landscape that mirrors their own existential dread. This musical landscape, although a product of its time, sounds like nothing that came before it.
You have driving, muscular basslines and a formally dressed vocalist singing in baritone (but never indulging in vocal theatrics) taking the centerstage; always in the company of motorik percussion and an atonal, minimalistic guitar that sometimes growls, and at others provides texture; seemingly mimicking whatever demon it is that was consuming Ian's soul at the time. Martin Hennett's austere, dub-influenced aesthetic recognises the importance of space in a work as bleak as this, and it all sets the stage for telling the tales of alienation, disorientation and despair during Thatcher era UK, in an entirely original way - a driving, metronomic opener in 'Disorder', the haunting, hellish lament of 'Day of the Lords', the maddening riff and subsequent explosion of 'Shadowplay', the chilling, hypnotic bass propelled illustration of epilepsy in 'She's Lost Control' as well as the cathartic build and release of 'New Dawn Fades' which foresees Curtis' losing struggle to maintain his lifestyle - "a loaded gun won't set you free, or so you say." There is also the vacuous anti-anthem in the closer "I Remember Nothing", by this point all corporeal relevance seems to have been uprooted and shot calluously into deep space, leaving behind only echoes of sorts - "Me in my own world, you there beside; the gaps are enormous, we stare from each side"
Raw, relentless and visceral, Unknown Pleasures is much more than an insight to a restless soul bearing the brunt of decay; it's also a definitive segment of alternative music history as we know it. You just can't go wrong here.
A loaded gun won't set you free, or so you say